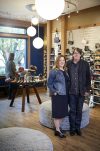 Sole Food
Full-time Key Holder
Sole Food, a locally owned specialty shoe store. We are a high volume, quality focused, team building oriented environment. Our goal is to provide a genuine guest experience by offering distinct combinations of colors, styles and fabrics from trusted and emerging brands.
Working for Sole Food, you will be exposed first hand to the entire business model. We have a take initiative approach to daily operations. For aspiring entrepreneurs, you will work directly with the owner and buyers of the company.
Roles and Responsibilities:
You will be responsible for driving sales through excellent customer service in a fast paced retail environment. You will open and close the store, counting the till and ensuring accuracy in daily paperwork. You will be detail oriented, executing operational projects during downtimes.
Skills:
Ability to work and thrive in a fast paced environment and adapt to the needs of the business
Detail oriented
Quick learner
Interest in fashion and footwear
Long term investment in the company with an interest in advancement
Positive person who enjoys working with people
Requirements:
Strong communication and listening skills
Flexible work schedule including weekends and holidays
Sales experience a plus, but eagerness to learn most important
To apply, please email your resume to micasolefood@gmail.com